Get Connected. Get on Board.
In Door County transportation is a basic need. It can be a hardship for people who do not have access to safe, reliable, and affordable transportation. Door County Connect is here to help and is your public transit service to get you to work, medical care, shopping, or activities at the ADRC.
Door County has two programs that can help.
Find out more at doorcountyconnect.com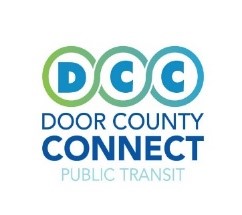 Formerly called ADRC Bus/Van Service
Door County Connect travels throughout the City of Sturgeon Bay and an extended area up to 10 miles from the ADRC. Service is available Monday–Friday, 8:15 am–4:00 pm. Riders pay $2.00 per stop in the City and $5.00 per trip in the extended area.
Schedule a Ride
Call: 920-746-6944